Rundlet-May House
Ralph May Bed Chamber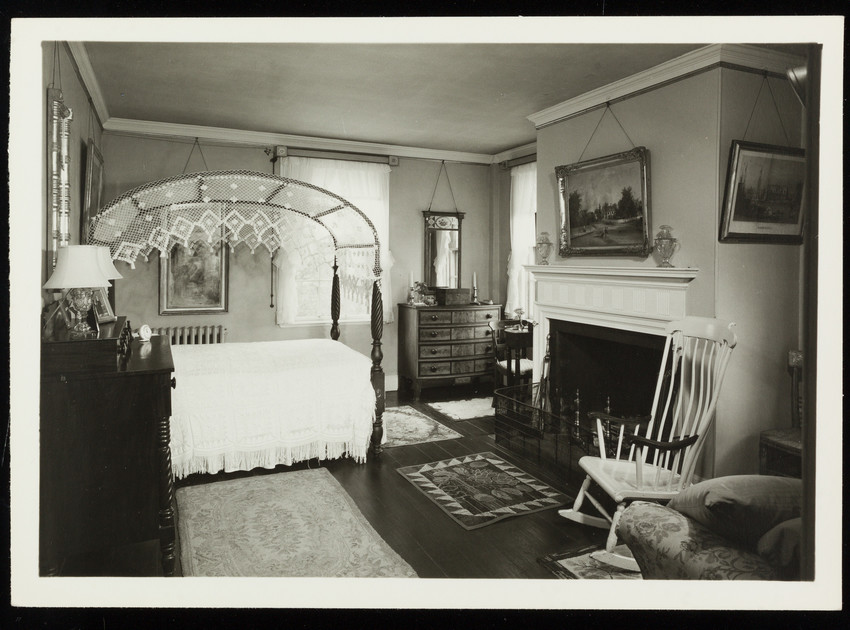 This mid-century image by the prolific photographer Douglas Armsden (1918-2009) from Kittery Point shows Ralph May's room much as it appears today.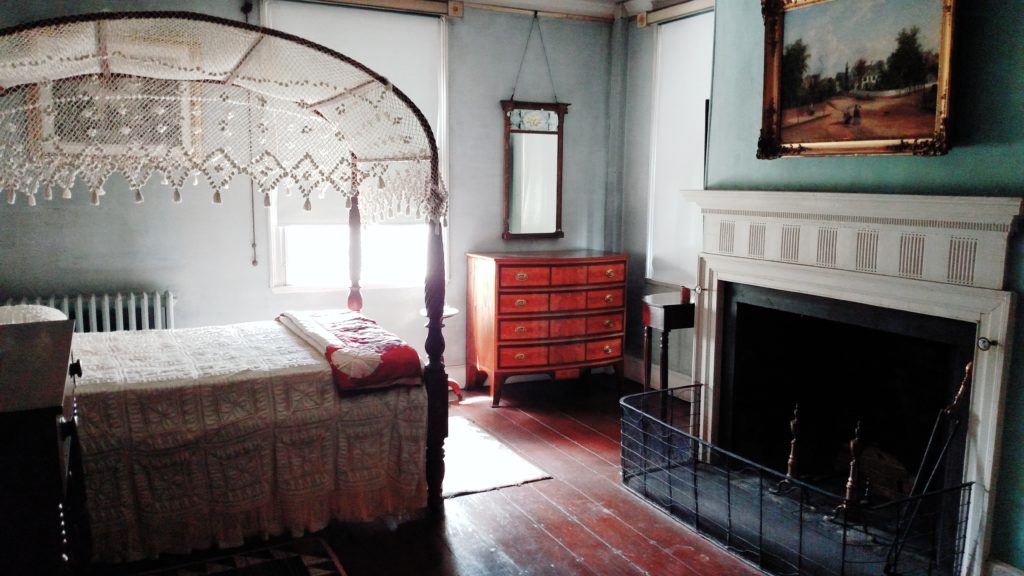 The painting of the Lord family home is above the mantel, and the bedcoverings and hooked rugs convey a sense of nostalgia.  Ralph May was a noted historian in Portsmouth and gifted the Rundlet-May House to Historic New England in 1971.
Portsmouth Street Scene
William H. Titcomb
Lord House/John Paul Jones House
The peaceful townscape depicted here, with pedestrians conversing in the street while a dog strolls idly by, is today a busy intersection with a traffic light in downtown Portsmouth, New Hampshire. The painting reflects the growth patterns of many New England towns, with densely spaced older buildings at the core, surrounded by an outer ring of larger lots and wider streets. All three of the houses in the picture, an 1845 Gothic Revival cottage and two eighteenth-century buildings, still stand today, two of them much altered, while the white house in the center, the John Paul Jones House, is now operated by the Portsmouth Historical Society. Painted by William H. Titcomb in 1853, this work has been part of the furnishings of Historic New England's Rundlet-May House since 1903 when James Rundlet May's wife Mary Ann Morison inherited it.
Chest of Drawers
At the beginning of the nineteenth century, Portsmouth, New Hampshire, cabinetmakers were producing what would become some of the most iconic and striking furniture produced in New England. Many of these pieces were characterized by boldly contrasting and highly figured veneers, like the birch veneer used here, carefully matched to create a dramatic effect. The bowed or rounded facade of the chest was also becoming increasingly popular in style. The refined drop pendant at the base is a feature that identifies this piece is most likely to have been made in Portsmouth. This chest of drawers, along with the Boardman lolling chair, descended in the family of Samuel Lord and came to the Rundlet-May House with the marriage of James Rundlet May and Mary Ann Morrison.